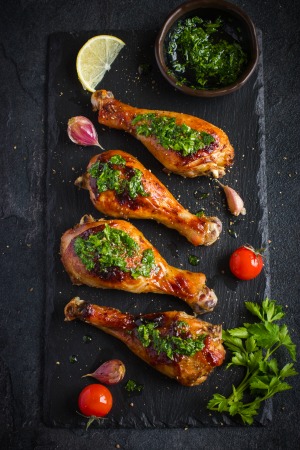 Paleo Meals: Eating the Way Your Great, Great Grandma Ate
When you enjoy Paleo meals, you'll be eating the way your distant relatives ate – long before humans started eating cereal for breakfast…sandwiches for lunch… and bread with almost every meal.
Instead you'll enjoy colorful, antioxidant-rich greens… cancer-fighting cruciferous veggies… sweet, juicy berries… colorful winter squash and sweet potato… and a wide variety of wild seafood and pasture-raised meats.
This significant departure from the Standard American Diet can be one of the most important things you ever do for your health!
On the Meal Genius Paleo Diet (Light), you'll avoid:
Grains - all grains are avoided; pseudograins like quinoa are allowed on our Paleo Light version.(Of course, you can always customize your meal plan further to omit, if desired)
Legumes – including beans, peas, lentils, peanuts and soy. Edible-podded legumes – including green beans and snap peas - are allowed.
Dairy - no cow, goat, or sheep's milk products (cheese, yogurt, ice cream). Butter, ghee and cream are allowed on our Paleo Light version. Our Strict Paleo Diet avoids all forms of dairy.
Easy & Delicious Paleo Meals: Nutrient-Dense Ancestral Eating for Modern Life
While you'll avoid the foods that (sadly) make up most Americans' diets… you'll never feel deprived or go hungry with the satisfying and nutrient-dense options we have here at Meal Genius.
From simple meals like Cast Iron Salmon with Green Beans... Chicken and Bok Choy Stir Fry... and Skirt Steak with Chimichurri... to comfort food favorites like Butter Chicken with Cauliflower Rice... Paleo Meatballs with Sweet Potato "Noodles"... Paleo Chicken Tacos... and even Paleo Beef Stroganoff with Cappello's Grain Free Noodles - you'll find over 900 Paleo recipes to choose from!
And what about those desserts, breads and breakfast foods we all love? We've got you covered! From Paleo Banana Bread... Paleo Coconut Flour Pancakes...and even Paleo Brownies - you'll find a wide assortment of comfort foods made with Paleo-friendly ingredients to keep you on track when the craving strikes.
Your Personalized Paleo Meal Plan: One Size Does Not Fit All
Best of all, when you sign up, you can create a personalized Paleo meal plan that suits your unique needs. With Meal Genius, you can avoid allergens and offending foods, scale your meal plan to suit your family's needs, try a Low Carb Paleo meal plan or even a Ketogenic Paleo Meal Plan, cook ahead and plan for leftovers, add Paleo desserts, choose to snack or intermittent fast… and so much more.
Here's a sample of what you can expect on your Paleo Meal Plan…
Since our Paleo meal plan comes with a 100% satisfaction guarantee, you have nothing to lose when you sign up.