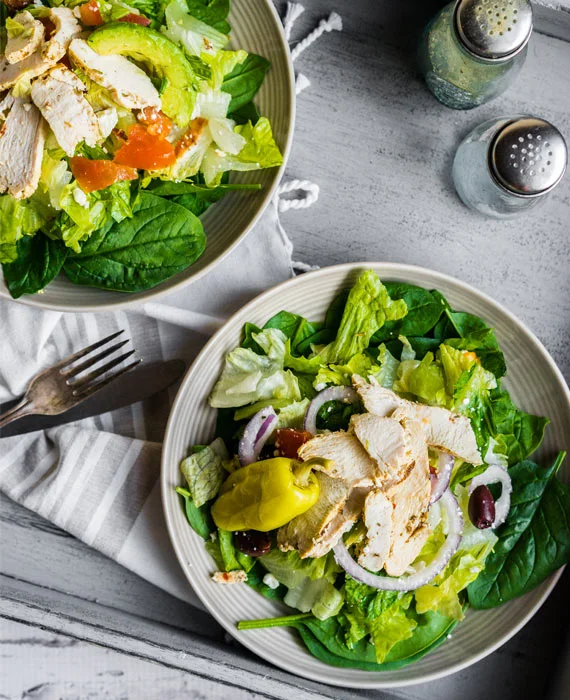 This is the week you'll start packing a healthy lunch...
You open the fridge to find some wilting lettuce and cold cuts. Maybe next week, you think to yourself.
Of course, you've heard the adage that, failing to plan is planning to fail. And nowhere is this truer than meal planning.
If you think "planning" sounds like "work", not to worry! Meal Genius makes planning a healthy lunch a cinch.
Simply browse meals personalized to your preferences, and add them to your plan with one click. Your shopping list is automatically generated so you'll have a clear list of everything you'll need at the store.
And if you want to minimize your time in the kitchen - while maximizing your meals, consider making
Last Night's Dinner - Today's Healthy Lunch
With Meal Genius, you can turn one delicious meal into three using our patent-pending Meals Cubed™ algorithm.
You'll spin last night's roast chicken into a delicious Kale Chicken Caesar Salad… you'll makeover your poached salmon dinner into Dill Salmon Collard Wraps… and transform that succulent Kahlua Pork into a quick and delicious Carnitas Taco Salad for a restaurant-quality meal in minutes.
Here at Meal Genius, we have something for everyone.
Check out more lunch favorites below like Shrimp Curry Lettuce Wraps… Mackerel Stuffed Avocados… and an assortment of freezer-friendly meals to make your meal planning healthy, delicious and easy!