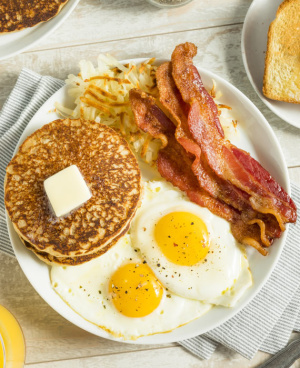 Breakfast…
It's hard to believe one simple meal could cause so much debate and confusion.
Of course, you've heard the adage that, "Breakfast is the most important meal of the day." Proponents believe a hearty morning meal kickstarts your metabolism and that skipping breakfast may send your blood sugar crashing.
Other experts point to evidence that skipping breakfast accelerates healthy fat loss, improves health and cellular detoxification, and leads to more stable blood sugar metabolism.
But one thing is not up for debate…
If you are going to eat breakfast, it should be nutrient-dense, with ample protein and healthy fat to power your body and brain into lunchtime.
Unfortunately, most people start their day with carb-and-sugar laden junk foods like grain-based cereal, bread, bagels and waffles.
Not only do these foods harm your health, they set you up for a blood sugar spike followed by a crash. Starting your day with a calorie-rich, nutrient-poor breakfast will make you ravenously hungry by lunch… and in need of an afternoon nap!
Comfort Food Breakfasts Made Healthy!
But that doesn't mean you can't enjoy comfort foods at breakfast…
In fact, here at Meal Genius, we take great pride in recreating your favorite morning treats with health-promoting ingredients. From quick and easy Keto Bagels with Cream Cheese… to Low-Carb Pancakes with Maple Syrup and Bacon… and even re-imagined renditions from your favorite restaurants like our Instant Pot Egg Bites.
In the mood for something more hearty?
Try the carnivore's favorite - Shredded Beef with Eggs in Purgatory - or the brunch classic - Eggs Benedict - made grain-free and ketogenic.
On the lighter side, you'll find a rainbow assortment of superfood smoothies, mineral-rich bone broth and even coffee-shop creations like Superfat Coffee, Pumpkin Spice Latte and Turmeric Latte.