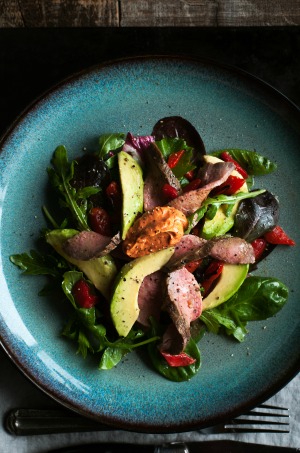 More Nutrition, Less Low-Quality Filler Ingredients
Unlike many other sites that share keto options, you'll be delighted to find that our meals pack real nutrition – which we proudly display along with the macronutrient ratio – on each and every one.
Move over slimy meats tucked in lettuce wraps. Goodbye uninventive meals laden with cheese. Hello fresh, satisfying and flavorful keto recipes that provide your body with vital micronutrients in addition to the perfect macronutrient ratios of fat, protein and carbohydrates.
From keto breakfasts (like Keto Waffles and Keto French toast) to comfort food keto dinners (like Keto Pan-Seared Chicken with Spinach and Creamy Mashers … Keto Paleo Meatballs with Marinara and Zoodles… Keto Butter Chicken and even Keto Pizza) to decadent keto desserts like Keto Chocolate Cake… Keto NY Cheesecake and Chewy Keto Chocolate Chip Cookies)...
In fact you'll find more than 500 kitchen tested low carb and keto meals here at Meal Genius!
Your Personalized Keto Meal Plan: Hundreds of Keto Meals at Your Fingertips
Best of all, when you sign up, you can create a personalized keto meal plan to suit your unique needs. You can eliminate allergens and offending foods, scale your meal plan to suit your family's needs, cook ahead and plan for leftovers, add keto desserts, choose to intermittent fast… and so much more.
Here's a sample of what you can expect on your Keto Meal Plan...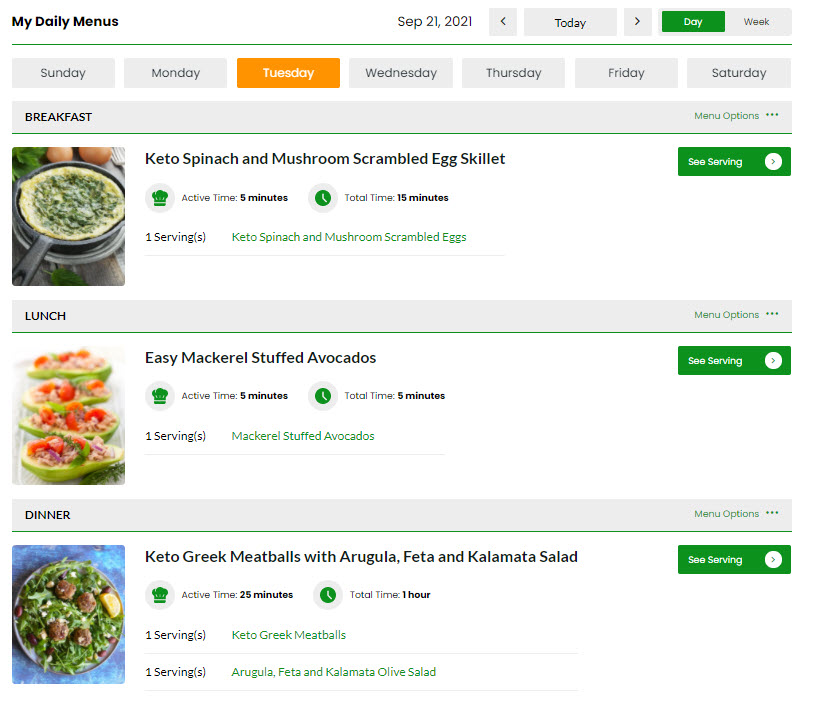 The Magic Macros: Is Your Keto Meal Plan... Really Keto?
Many so-called keto meal plans out there fail to meet what we call the "Magic Macros".
We define a ketogenic macro ratio as:
75% Fat
20% Protein
5% Carbs
While a Low Carb High Fat Meal Plan can be very beneficial, the majority of people will not achieve ketosis - and its many benefits - without maintaining specific macro ratios.
That's why we display macronutrient ratios on each and every recipe and menu. Just look in the Nutrition Information section and click on "View Calorie Breakdown" to see the macros on each and every meal, recipe and food on our site.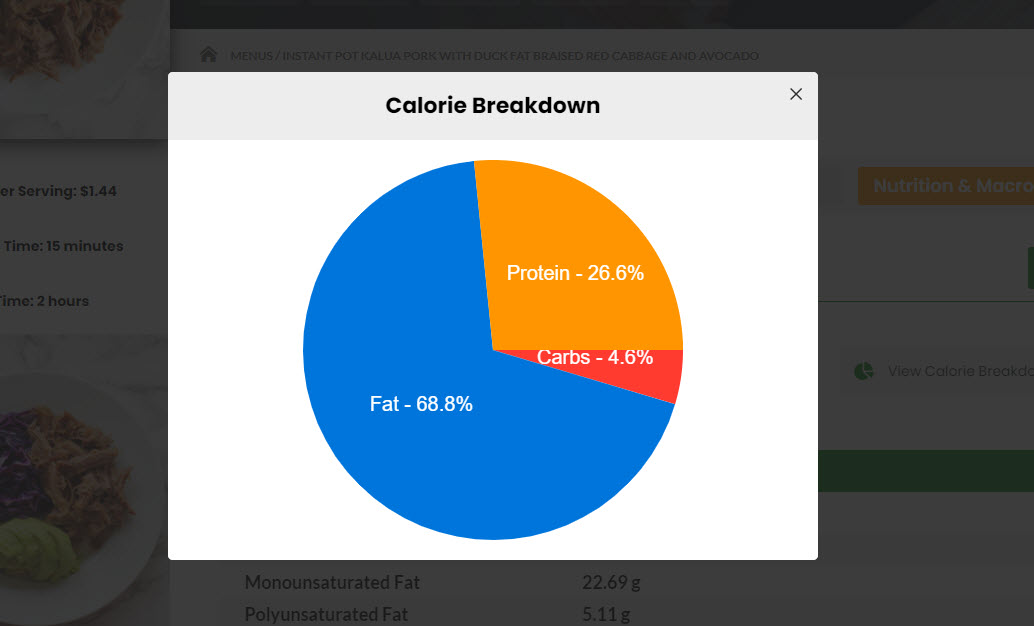 Since our keto meal plan comes with a 100% satisfaction guarantee, you have nothing to lose when you sign up.