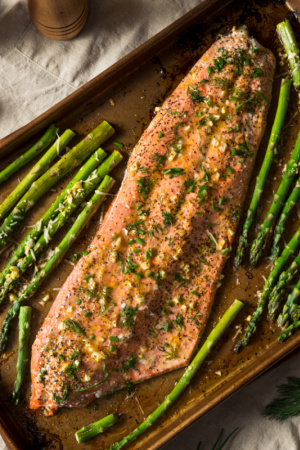 In fact, recent research published at Carnegie Mellon University found that "time-delayed eating" - where you choose your meals in advance - can promote healthier eating choices … even for the meals you didn't plan!(ref)
Why does this happen?
Lead researcher of the study, Dr. Eric Van Epps believes people have what he calls a "bias toward the present":
"If a decision is going to be implemented immediately, we just care about the immediate consequences, and we discount the long-term costs and benefits…In the case of food, we care about what's happening right now – like how tasty it is – but discount the long-term costs of an unhealthy meal."
But when you plan or order meals in advance, you are able to more evenly weigh the short-term and the long-term costs and benefits.
Dinner Ideas for Every Style of Eating
Whether you follow a keto diet, a Paleo diet, or your own personalized combination of special diets – here at Meal Genius, you'll find nutrient-dense, mouthwatering dinner ideas that you and your family will love.
Gone keto, but miss pizza? Try our Keto Pizza dinner for Friday night!
Love Asian, but can't do soy or grains? Try our Steak Fried Cauliflower Rice… Pork Belly Fried Cauliflower Rice… or Cashew Chicken.
Craving Italian, but can't have dairy or wheat? Try our Paleo Meatballs with Zoodles… or Paleo Fettuccine Bolognese.
Dinner Ideas that Make Mealtime Breeze!
Our mission here at Meal Genius is to bring back the JOY of eating… no matter what dietary restrictions you may have. And because we know how tough it can be preparing meals from scratch when you have health challenges (or a busy life!), we've created a number of tools to help you save time and make mealtime a breeze.
And one of those tools is Meals Cubed. Using our unique dinner-spinning algorithm, Meals Cubed allows you to cook twice and eat six times – reducing your cooking, time in the kitchen and cleanup by 50%! You'll transform a tender whole chicken into a colorful Chicken Cobb Salad or Paleo Chicken Tacos. You'll spin braised beef into Shredded Beef Sliders and Thai Beef Salad. With over 500 dinner ideas to choose from – we've got a meal for your every craving and occasion!