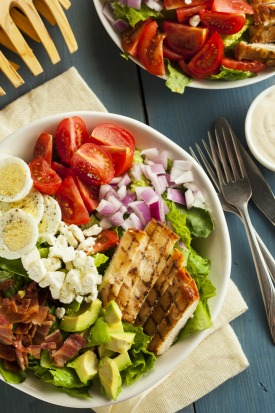 Low Carb Meals without Compromise
But here at Meal Genius, we're changing low carb's negative reputation with flavor-packed, nutrient-dense meals… not to mention low-carb makeovers of the breads, sweets and treats you crave.
In fact, when you choose a Meal Genius Low Carb Meal Plan, you'll find your favorite comfort foods like Pulled Pork Sandwiches with Low Carb Paleo Buns … Pork Fried Cauliflower Rice… and even Low Carb Pizza!
Our collection features hundreds of simple and creative low carb recipes that will satisfy your cravings while fitting in to your busy schedule. With low carb gourmet plates like Instant Pot Creamy Mushroom Bacon Chicken with Zoodles and Low Carb Meatballs with Marinara and Zoodles you'll impress your family and friends… without spending hours in the kitchen.
Low Carb Desserts… without Artificial Sweeteners?
And not worry, we haven't forgotten about desserts!
Despite a decrease in cravings with a low carb diet, we all enjoy a sweet treat from time to time.
Unlike most low carb desserts that rely on artificial sweeteners, we create our lower impact sweet treats with all-natural Monk Fruit, Stevia and Erythritol.
In our extensive collection, you'll find makeovers of your favorite desserts like Chewy Bakehouse Style Chocolate Chip Cookies… decadent Low Carb Chocolate Mousse … and sweet, buttery Pound Cake!
How Going Low Carb Can Save Your Life
And all of this is really great news considering the recent (and copious!) research on the health benefits of adopting a low carb diet.
If you're reading this, you probably already know that eating a diet high in carbohydrates contributes to lethargy, weight gain and even migraines.
But did you know that eating a high carb diet can also increase your risk for diabetes, cancer, heart disease, and even Alzheimer's (to name a few)?
And even if you already suffer from these conditions, choosing a low carb diet can help mitigate – and even reverse – these conditions for many people.
The Lowdown on Low Carb: How Low Should You Go?
With the fatally flawed USDA pyramid placing carbohydrates at the base of the pyramid (indicating this macronutrient should make up the majority of your diet), you might be wondering…
What is a low carb diet? And how many carbs should I eat?
The truth is, we are all biochemically unique and a vast number of factors can impact your carbohydrate tolerance.
That's why here at Meal Genius you can customize your level of carbohydrate to meet your unique needs. The Low Carb meal plan options we offer include:
Low Carb – 20 grams of carbs or less per serving
Very Low Carb – 10 grams of carbs or less per serving
Low Carb High Fat – 60% Fat/ 30% Protein/10% Carbs
Ketogenic – 75% Fat/20% Protein/5% Carbs
You'll find the macronutrient ratio, total carbs, net carbs plus complete nutrition information and servings of fruits and veggies on each and every meal and recipe…
Your Personalized Low Carb Meal Plan: A Thousand Low Carb Recipes at Your Fingertips
Best of all, when you sign up, you can create a personalized low carb meal plan to suit your unique needs.
You can eliminate allergens and offending foods, scale your meal plan to suit your family's needs, cook ahead and plan for leftovers, add smoothies and desserts, choose to intermittent fast… and so much more.
Here's a sample of what you can expect on your low carb meal plan: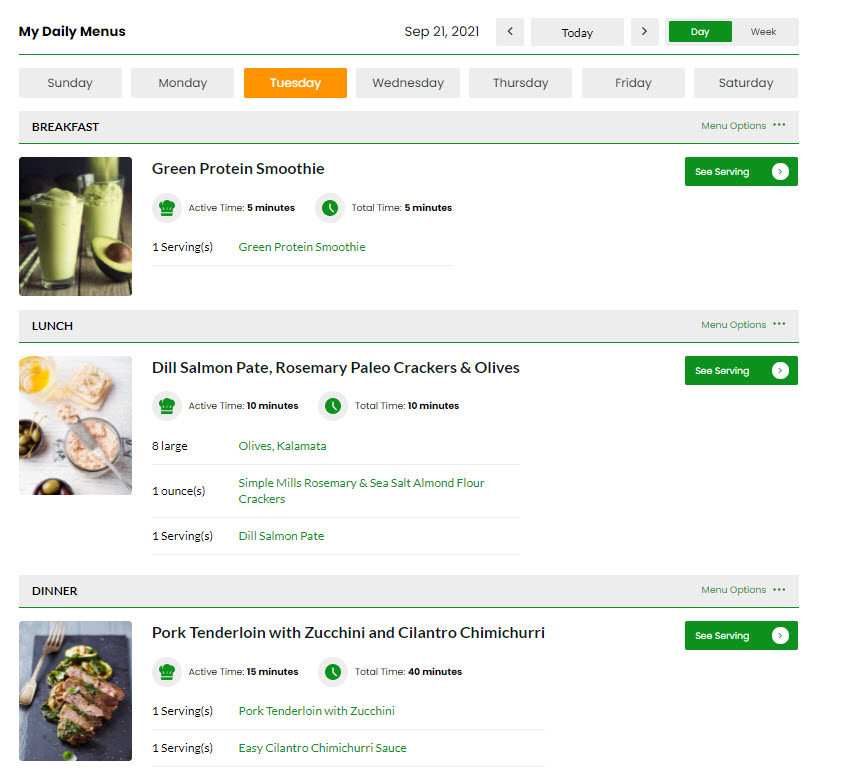 Since our low carb meal plan comes with a 100% satisfaction guarantee, you have nothing to lose when you sign up.